| | |
| --- | --- |
| | The following content is from the Second Instalment which has not been released and can change. |
Memoirs of a Desert Ranger is a side-quest in the second part of Fallout: New California. In this quest, the player is locating five metal boxes left behind by a Desert Ranger over a century ago. Due to the amount of time that passed, the boxes are partly buried in the ground - requiring the player to be on the lookout for them. Four boxes holds a memoir page written by the Desert Ranger while the fifth box contains a unique weapon named "Star."
Walkthrough
Edit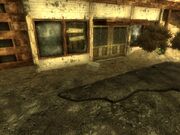 Buried Box 1 location: The first box is found in front of Pinehaven Hospital. Buried Box 1 holds the first chronological memoir.
Buried Box 2 location: The second box is found in Athens South Ranch. Buried Box 2 holds the second chronological memoir.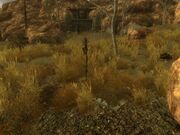 Buried Box 3 location: The third box is found near the Alter of the Ghost. Buried Box 3 holds the third chronological memoir. A burial site for the Ranger's wife is also found here.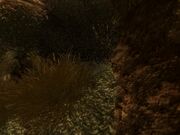 Buried Box 4 location: The fourth box is found outside the wilderness cave. Buried Box 4 holds the fourth chronological memoir.
Buried Box 5 location: The fifth box is found inside the wilderness cave. Buried Box 5 holds the Star special weapon.